TORFAEN CHORAL SOCIETY & Conductor JEANETTE MASSOCCHI present our FAREWELL CONCERT
Puccini's Messa di Gloria and selected pieces from Handel's Messiah.
Soprano ANNE WILKINS, Tenor RICHARD ALLEN, Baritone ANDREW JENKINS, Organist HUGH THOMAS,and St WOOLOS' PLAYERS
---
Please bring your carol books to rehearsals.
And
The Boar's Head carol,
Fanfare For Christmas Day,
Christmas Is Coming
These are the Christmas arrangements.
Monday the 5th December.
Rehearsal at Holy Trinity Church 7.00 pm.
Saturday the 10th December .
Messiah concert Arrive 6.15 pm for 7. pm start.
First half dress suit. White shirt, black bow tie,
silver pocket square.
Second half. Men black shirt red tie.
Choir Carols
In the bleak mid winter. Page 174,
Sans day carol. Page 219
Still Still Still . Page 306,
Community Carols
Hark the herald, O come all ye faithful, Good King Wenceslas,
See amid the winter snow, Deck the halls ,Once in Royal David's City
Christmas Holiday Dates
NO REHEARSAL 19th 26th December and 2nd January
NEXT REHEARSAL 9TH January.2012
---
CAR PARKING at OUR LADY and SAINT MICHAEL'S CHURCH
Note that because of building maintenance work currently in progress, the usual
entrance to the church and car-park from Pen-y-pound Road is not accessible.
Vehicle access is available via St. Michael's Road. This is normally an EXIT and
is marked as no entry. This is the one to use.
Alternatively, park nearby and walk to the church, pedestrian access is still
possible from the Pen-y-pound entrance.
DISABLED PARKING
Would badge holders try to use the parking spaces under the trees nearest the
Church, if they're free, this will permit wheelchair users to park in the
reserved places, where there's extra space for them. Thank you for your kind
co-operation in this regard.
For St. Michaels road.Carry on along the main road to brecon about 300 yards
turn right and right again into the car park
---
No rehersal 23rd and 30th of August next rehersal 6th Sept.
---
No Practice Monday bank holiday 31-05-10.
Next Practice Monday 07-06-10 Please return your copy of Hear My Prayer (please erase all your markings), and bring Gabriel Faures REQUIEM.
see you all soon Paul.
---
Next Practice BANK HOLIDAY MONDAY 03.05.2010 11am to 1pm at Llanyravon Methodist Church Cwmbran.
---
Next practice at Panteg Methodist Church New Inn 9Th April 2010 at 7PM (not the usual 7.30)
---
Members please note practice for 11-01-10 has been CANCELLED due to snow.
Paul
---
Next practice 4 January 2010
Nice comments on the comments page of the website from Stephane at Gibraltar Care Home.
Happy Christmas and New Year from your web team Andrew and Paul.
---
Following several enquiries
The Dress code for Christmas concerts is
BLACK and SILVER
---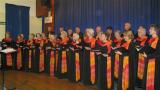 PRACTICE FOR MONDAY 14:12:09 HAS BEEN CANCELLED
Please be at the Gibraltar Care Village, Gibraltar House
Portal Road, Monmouth NP25 5FL
for 7pm Thursday 17:12:09
---
Please disregard the previous news flash It is a duplicate of one sent in November and was sent in error while updating the Choir E-Mail facility. Paul.
---
Please can those members taking part in the Cwm ddu eisteddfod meet at Cwm ddu no later than 8.30pm. Jeanette is also keen for us to enter the following week at Sennybridge please give it some thought.
Best wishes Paul.
---
Members please note NO PRACTICE BANK HOLIDAY MONDAY 25.05.09.
---
Members please note Tonights practice for Monday the 11/05/09 has been CANCELLED
please let other members know Thanks Paul.
---
Next practice 1Pm Saturday 2.05.09 at Panteg Methodist Church New Inn.Please bring Dashing Away,Londonderry Air (Danny Boy), Cantique de Jean Racine,and Haydn Kyrie.
Also Practice 7.30 on Friday 8.05.09 at Panteg Methodist Church.
---
Extra practice Friday 17/4/09 start 7.30Pm at Panteg Methodist Church New Inn.
---
Extra practice tonight Thursday 26/02/09 to start at 8.30 until 9.30 at Panteg Methodist Church New Inn.
---
Due to the adverse weather practice for Monday the 9th feb 09 has been CANCELLED.
---
MEMBERS PLEASE NOTE PRACTICE FOR Monday 2nd February 09 has been CANCELLED please pass this message on to members not on the internet best wishes Paul
---
Next practice Friday 14-11-08 Panteg Methodist Church New Inn 7.30 to 9.30
Rehersal Saturday November 15th 1.30 to 4. St Woolos cathedral Newport
---
---
Rehersal for the Haydn Mass Sunday November 16th has been CANCELLED a new date and time to be announced soon. Paul
---
Workshops for HAYDN at llanyrafon Saturday November 1st 10 to 1 (unfortunately I cant go to this one Paul).
Llanyrafon Saturday November 8th 10 to 1
REHEARSAL St Woolos Newport Sunday November 16th 1 to 4.30
---
Will all members please note as of today practice will be held at
Llanyrafon Methodist Church
Llanyravon Way
Llanyravon Cwmbran NP44 8HN.
can you please bring to practice the lighter music pieces,Old Mother Hubbard,
Lil Liza Jane , Encores for choirs ,European Sacred Music,and Haydn St Caeciliae.
See you all at Llanyrafon 6-10-08 At 7-30 Paul.
---
Please note the next practice is back at Richmond road 22-09-08
Paul.
---
Members please note the next practice is at Llanyrafon Methodist Church
llanyrafon way
Llanyrafon
Cwmbran.
ON Monday the 15-09-08 at 7.30pm .
---
Will Choir members please return the scores of VIVALDI MAGNIFICAT & RUTTER'S MASS OF THE CHILDREN,tonight 04/08/08.
---
The Choir no longer hold practice on Fridays as of 10.06.08 see you all on Monday Paul
---
Next practise St Mary's Church, Church Lane New Inn Friday 16.05.08 start 7pm
---
There will be a workshop for choir members Saturday 10th May.10Am to 1Pm at Richmond Road.see you at practice Friday
Paul
---
Congratulations to the Choir and the Octet on their success at the Llangynidr Eisteddfod.
NO practice on Friday 21st and Monday the 24th March.Next practice Friday the 28th March.
---